God is Giving us a Chance to Repent of Our Lukewarmness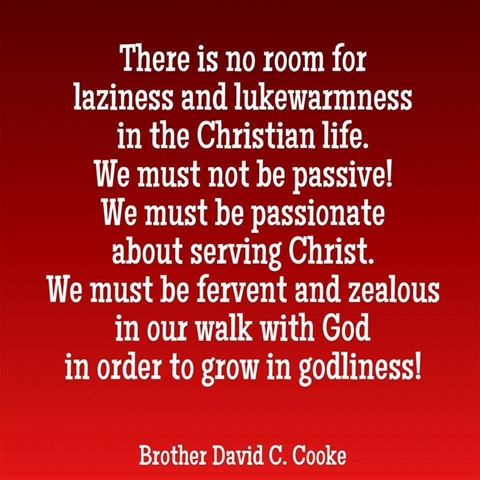 "The GOODNESS of God leads you to repentance" Please read Revelation 3:14 -21 concerning the sin of Lukewarmness...

"I know your works, that you are neither cold nor hot. I could wish you were cold or hot. So then, because you are lukewarm and neither cold nor hot, I will vomit you out of My mouth. Because you say, 'I am rich, have become wealthy, and have need of nothing'—and do not know that you are wretched, miserable, poor, blind, and naked— I counsel you to buy from Me gold refined in the fire, that you may be rich; and white garments, that you may be clothed, that the shame of your nakedness may not be revealed; and anoint your eyes with eye salve, that you may see. As many as I love, I rebuke and chasten. Therefore be zealous and repent. Behold, I stand at the door and knock. If anyone hears My voice and opens the door, I will come unto him and dine with him, and he with Me. To him who overcomes I will grant to sit with Me on My throne, as I also overcame and sat down with My Father on His throne." (Rev. 3:14-21)
Many people believe that their spiritual life is just something that they can take for granted or they just don't have the time to be bothered with it much. They think that going to a church now and then and being a decent citizen is more than adequate as far as their spiritual life is concerned. Many people tend to think that life is primarily about "getting ahead" in their personal careers/educations, finances, accumulation of material possessions, personal ambitions, goals, and other personal priorities.
However, the Bible teaches very differently about how we should view our spiritual life and our personal life. The Bible tells us that God is not to be viewed in our life as just something we get to when we find a spare minute. The Bible teaches that God is not to be a mere "something" in our lives, but He is to be EVERYTHING in our lives since we are commanded to love Him with all of our heart, mind, soul, and strength. This actually makes a lot of sense since everything we work for in this life simply fades away into nothingness, but the things of God are eternal and last forever! God does not want us to waste our time on obsessing about this life and the world which passes away, in fact, God says that if we love this world (obsess our thoughts and lives toward things like our appearance, careers, financial gain, hobbies, pleasures, personal goals, or even our family) then the love of God is not even in us!
"Love not the world, neither the things that are in the world. If any man loves the world, the love of the Father is not in him.
For all that is in the world, the lust of the flesh, and the lust of the eyes, and the pride of life is not of the Father but is of the world.
And the world passeth away, and the lust thereof: but he that doeth the will of God abideth forever." (1 John 2:15-17)


People who have this lack of true devotion toward God are called LUKEWARM in the Bible. Lukewarmness is a terrible sin against God because it means that there are IDOLS that we hold in our heart that we esteem with stronger love and devotion than we do the things of God. If we honestly examine our lives and we find that we dwell our minds on personal ambitions, pleasures, hobbies, possessions, making money, sports, our cell phone, friends, family etc. over really dwelling on serving the wondrous God of all creation, then we have made an IDOL in our heart and we are NOT right with God and need to repent of this walk of sin.
Wonderfully, God in His grace is still mercifully reaching out to each and every one of us and giving us the opportunity to repent of our idols and lukewarmness towards Him and offering for us to get right with Him if we've never been His child or if we have backslidden/fallen away from Him. God's merciful opportunities will not last forever though, and if we put off repenting we may find ourselves before the Judgment Seat of Christ one day. Once this time occurs it will be too late to repent and we will be without any hope since we perpetually ignored the Lord's calling and decided to continue on our own path. This path was not the narrow road that few people take which follows the Lord but was the wide path which most people take that turns their backs on the Lord. At that time many will plead and cry out "Lord, Lord, have mercy on our souls!", but the Lord will answer "DEPART from Me, you who practice lawlessness!" (Matthew 7:21-23)
I pray with all of my heart that none of us choose to let this be our eternal fate. If we continue to turn our backs on God, He is not able to do for us as He wants. What he wants to do more than anything for us is to forgive us, wash us clean of our sins, give us new born-again hearts that live first and foremost for Him, and give us the wondrous free gift of salvation through the precious cleansing blood of the Lord Jesus which leads to eternal life! If we continue to reject His call to repentance and continue in serving ourselves and our sins instead of following the Lord, it means we have chosen the wide path of destruction which separates us from God for all time. The Bible teaches that those people will deeply regret their decision to turn away from God's truths to instead take pleasure in unrighteousness because they will have to live in a place after death which will be full of pain and darkness where there will be weeping and grinding of teeth out of deep tormenting regret.
But there is still time to get right with God! He is reaching out and calling you to come home to Him today! Simply repent by turning away from all that separates you from the love of God and He will come into your heart and wash you clean. There is still time to turn fully away from being lukewarm toward God and instead become on fire/hot in our devotion and zealous service to the Lord!
There is a wonderful web page which teaches thoroughly about what it means to be "lukewarm" toward God and how to test ourselves to make sure that we are NOT living in lukewarmness toward the Lord, but want to live for Him with our whole hearts. PLEASE test yourself concerning lukewarmness, and you can find this test and other helpful information pertaining to this issue on the following link from so4j.com (Sold Out For Jesus).
PLEASE CLICK ON THE FOLLOWING LINK TO TEST IF YOU ARE LUKEWARM TOWARD GOD OR NOT:
http://so4j.com/lukewarm-christian-test

God bless you and let us all make sure that we are ready and waiting to meet the wondrous Lord over all creation! How exciting it will be when we soon leave this dying earth and live forever with our glorious King!
Article was written by F. A. Butler
This is an excellent video from "Vigilant Christian" which helps to identify the traits of lukewarm "Christians"
A Powerful Video That Teaches Us That God is Mercifully Giving Us Another Opportunity to Leave Our Lukewarmness Toward the Lord and Turn From Our Sins and to Now Turn Our Lives Fully to God and Walk Daily with Him!
A message from David C. Cooke concerning the sin of Lukewarmness
NO LAZY CHRISTIANS! WE MUST PRESS TOWARD THE MARK AND RUN THE RACE WITH DETERMINATION. Refuse to 'sit on the sidelines ' and be a lazy, uninvolved, passive, compromising "Christian! Complacency has no place in our lives. We press on! We are 'diligent' to make our calling and election sure! We guard our hearts with ALL DILIGENCE! We are vigilant and sober-minded and will not fall into the traps of the devil! Being saved by grace does not absolve you of your responsibilities to obey God and to fight the good fight of faith and to deny yourself daily and follow Jesus.
NO SHORTCUTS TO HOLINESS! We must pursue God in order to grow in godliness. We mortify and put to death the deeds of the flesh! We take time to be holy, we do not waste our time! We cannot cut corners, ignore responsibilities and render ourselves inactive in our spiritual lives!
OUR DUTIES AS CHRISTIANS. READ THESE HOLY SCRIPTURES
1. MORTIFY - Romans 8:13 'For if ye live after the flesh ye shall
die: but if ye through the Spirit do mortify the deeds of the body, ye shall live.' Mortify means, 'to put to death.'
2. EXERCISE - 1st Timothy 4:7 'But refuse profane and old wives' fables, and exercise thyself rather unto godliness.'
3. PRESS TOWARD - Philippians 3:14 'I press toward the mark for the prize of the high calling of God in Christ Jesus.'
4. FLEE AND FOLLOW -1st Timothy 6:11"But thou, O man of God, flee these things, and follow after righteousness, godliness, faith, love, patience, and meekness.'
5. DENY - Titus 2:12 'Teaching us that, denying ungodliness and worldly lusts, we should live soberly, righteously and godly, in this present world.'
6. CLEANSE YOURSELF - 2nd Cor.7:1 'Having, therefore, these promises, dearly beloved, let us cleanse ourselves from all filthiness of the flesh and spirit, perfecting holiness in the fear of God.'
7. DILIGENCE - 2nd Peter 3:14 'Wherefore, beloved, seeing that ye look for such things, be diligent that ye may be found of Him in peace, without spot, and blameless.' 2nd Peter 1:10 'Wherefore the rather, brethren, give diligence to make your calling and election sure: for if ye do these things, ye shall never fall.'
8. LAY ASIDE AND RUN - Hebrews 12:1 'Let us lay aside every weight and the sin which doth easily beset us, and let us run with patience the race that is set before us.'
9. BE SOBER. BE VIGILANT. RESIST. - 1st Peter 5:8 'Be sober, be vigilant: because of your adversary the devil, as a roaring lion, walks about, seeking whom he may devour. Whom resist steadfast in the faith.'
10. BE FERVENT - Romans 12:11 'Not lagging behind in diligence, fervent in spirit, serving the Lord.'
11. WORK OUT - Philippians 2:12-13 'Work out your salvation with fear and trembling. For it is God which works in you both to will and to do of His good pleasure.'
12. ABSTAIN - 1st Peter 2:11 'Dearly beloved, I beseech you as strangers and pilgrims, abstain from fleshly lusts, which war against the soul.'
13. OBEDIENCE - 1st John 2:2-3 Obedience is the pathway to holiness and Christ-likeness, but it is only as we know and have His commands that we can obey them. God's Word must be so strongly fixed in our minds that it becomes the dominant influence in our thoughts, our attitudes, and our actions.
14. DO NOT BE PASSIVE - This means to not be lazy and to not be wasteful. Laziness is not a virtue but a vice. It is destructive and leads to nothing because it invests in nothing. Life is like a bank 'you get out of it what you put in it.' Are you making investments daily in your life and the lives of others?
15. GET EXCITED AND ENTHUSIASTIC about serving the Lord! Stir yourself up now. Passivity in the Christian life invites compromise which opens the door to all kinds of sin. There are harmful consequences to being lazy and slothful. We just cannot afford to neglect God, His holy Word, and prayer and expect the Lord to use us.
16. Let's WAKE UP RIGHT NOW! Let's get out of our slumber and lets 'fan the flames' of complete total devotion to Jesus. Be determined to move forward and not be lukewarm and ineffective. We can overcome every obstacle in our path. God wants you and me to bear abundant fruit. LIFE IS NOT EASY BUT WE KEEP PRESSING ON IN JESUS. We do not float toward the goal. Dead fish float and we are not dead but alive in Christ.
17. WE ARE LIKE 'LIVING FISH' WHO SWIM UPSTREAM AGAINST THE CURRENTS OF THE SINFUL CULTURE! We must be earnest. We must be fervent in these last days of apostasy. The lazy ones lose control of their lives and destinies and waste their lives in trivial easy pursuits that please the flesh.