Understanding true Sabbath Keeping (Resting in Christ)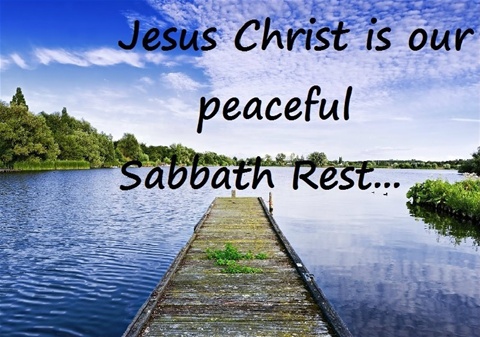 In this world of confusing teachings about Sabbath Keeping and of people being tossed to and fro by every wind of doctrine, this article by Pete Wilson examines God's Word about what it means to TRULY keep the Sabbath and knowing true rest in Christ.
I was asked again about Sabbath keeping from a woman who is being tossed and turned by various winds of doctrine in disputing things about the Law with some of her Messianic friends online. They are telling her she still must keep the law on top of walking in faith in Jesus Christ. I can see why Paul was so angry with those teachers doing this back in his day due to the destruction such beliefs have on faith and the fruit it is supposed to produce which is love. The following is my answer to her. Search this issue out for yourself, and you will also discern that this is what the whole counsel of God teaches and this gospel has not changed.
Dear Sabbath Keeper, I know you must be growing weary of being tossed about by the various winds of doctrine concerning this Sabbath issue. I grow so tired of striving and arguing with people that want to stay under the law and worship not in spirit but in their flesh. By no works of the flesh shall any flesh be justified but rather it is through faith in Jesus Christ that we are justified. For those who insist that people continue to keep the Old Testament Sabbath law, there is a spirit of self-righteousness that blinds these people to the true gospel from these otherwise well-meaning folks.
I absolutely keep the Sabbath, but we have a much higher and better Sabbath which is the Sabbath of the New Covenant. If you doubt this, please go read Matthew 5 and all of the other examples concerning Jesus and the Sabbath. Every single time, the law keeping Pharisees missed entirely the purposes of God. Those whose hearts have turned to God and away from self will see this. I hope that more come to see it. I have sadly had to reject many of these men and women per Titus 3:9-10 for striving and contending over matters of the law.
I have lost several "online" friends over this. I judge not anyone who wants to keep these things if they are truly doing it out of love of God. But if they think they HAVE to do it to be in the will of God and teach OTHERS the same, then they have fallen from grace. This is very sad, for Jesus is our Sabbath. We fulfill all of the law when we are IN CHRIST, walking in love being led by the Spirit of God.
Matt. 11:28-30 "Come unto me, all ye that labor and are heavy laden, and I will give you rest. Take my yoke upon you, and learn of me; for I am meek and lowly in heart: and ye shall find rest unto your souls. For my yoke is easy, and my burden is light."
This is the ultimate Sabbath rest we have when we walk by faith being IN CHRIST. This is the Sabbath rest that remains for the people of God. This is the spiritual, heart-based, fulfillment of the Sabbath and how we fulfill the law in Christ Jesus.
Hebrews 4:8-11 "For if Jesus had given them rest, then would he not afterward have spoken of another day. There remaineth, therefore, a rest to the people of God. For he that is entered into his rest, he also hath ceased from his own works, as God did from His. Let us labor, therefore, to enter into that rest, lest any man would fall after the same example of unbelief."
That rest is here and available right now. Jesus came. He is risen and finished it.
1 Tim. 1:5-9 "Now the end of the commandment is charity out of a pure heart, and of a good conscience, and of faith unfeigned: From which some having swerved have turned aside unto vain jangling; Desiring to be teachers of the law; understanding neither what they say, nor whereof they affirm. But we know that the law is good if a man use it lawfully; Knowing this, that the law is not made for a righteous man, but for the lawless and disobedient, for the ungodly and for sinners, for unholy and profane"
1 Tim. 6:20 "O Timothy, keep that which is committed to thy trust, avoiding profane and vain babblings, and oppositions of science falsely so called: Which some professing have erred concerning the faith."
Matt. 7:12 "Therefore, whatever you want men to do to you, do also to them, for this is the Law and the Prophets."
Matt. 12:5 "Or have ye not read in the law, how that on the sabbath days the priests in the temple profane the Sabbath and are blameless? But I say unto you, That in this place is one greater than the temple. But if ye had known what this meaneth, I will have mercy, and not sacrifice, ye would not have condemned the guiltless. For the Son of man is Lord even of the sabbath day."
As true believers, we are priests of God according to what the Bible tells us.
John 4:23-24 "But the hour cometh, and now is, when the true worshippers shall worship the Father in spirit and in truth: for the Father seeketh such to worship him. God is a Spirit: and they that worship him must worship him in spirit and in truth."
John 6:63 "It is the spirit that quickeneth; the flesh profiteth nothing: the words that I speak unto you, they are spirit, and they are life."
Romans 8:1-4 "There is therefore now no condemnation to them which are in Christ Jesus, who walk not after the flesh, but after the Spirit. For the law of the Spirit of life in Christ Jesus hath made me free from the law of sin and death. For what the law could not do, in that it was weak through the flesh, God sending his own Son in the likeness of sinful flesh, and for sin, condemned sin in the flesh: That the righteousness of the law might be fulfilled in us, who walk not after the flesh, but after the Spirit."
Galatians 5:16-18 "I say then: Walk in the Spirit, and you shall not fulfill the lust of the flesh. For the flesh lusts against the Spirit, and the Spirit against the flesh; and these are contrary to one another so that you do not do the things that you wish. But if you are led by the Spirit, you are not under the law." (Please read the prior verses to this and you will hear about the liberty we have in Christ. We obey out of love.)
Acts 15:8-11 "And God, which knoweth the hearts, bare them, witness, giving them the Holy Ghost, even as he did unto us; and put no difference between us and them, purifying their hearts by faith. Now, therefore, why tempt ye, God, to put a yoke upon the neck of the disciples, which neither our fathers nor we were able to bear? But we believe that through the grace of the LORD Jesus Christ we shall be saved, even as they."
Let's honor and respect those who honor or esteem any day to the Lord. But let's not judge their hearts over this or put people back under the law. It is either grace or law. Choose wisely.
Romans 14:4-6 "Who art thou that judgest another man's servant? to his own master he standeth or falleth. Yea, he shall be holden up: for God is able to make him stand. One man esteemeth one day above another: another esteemeth every day alike. Let every man be fully persuaded in his own mind. He that regardeth the day, regardeth it unto the Lord; and he that regardeth, not the day, to the Lord he doth not regard it."
Romans 13:8-10 "Owe no man anything, but to love one another: for he that loveth another hath fulfilled the law. For this, Thou shalt not commit adultery, Thou shalt not kill, Thou shalt not steal, Thou shalt not bear false witness, Thou shalt not covet; and if there be any other commandment, it is briefly comprehended in this saying, namely, Thou shalt love thy neighbor as thyself. Love worketh no ill to his neighbor: therefore love is the fulfilling of the law."
Jeremiah 33:16 "In those days shall Judah be saved, and Jerusalem shall dwell safely: and this is the name wherewith she shall be called, The LORD our righteousness."
Our own righteous deeds are likened to filthy rags before God. Don't think for one minute you are holy because you choose to stay at home on a Saturday and pray or read the Bible. You are holy when you walk as Jesus walked, in love toward everyone. Of course, you will be godly because you will want to set a good example for others and please your Lord out of a pure heart.
We all must be very wise, including me, and give correction and defense of the truth in love and gentleness. I have erred in doing so in the past and when we lash out at others that do not yet see what we see we can be easily overcome and our testimony rendered of no effect.
Galatians 6:1 "Brethren, if a man is overtaken in a fault, ye which are spiritual, restore such a one in the spirit of meekness; considering thyself, lest thou also be tempted."
The people Paul told to not strive and argue with, were people that were teaching LAW on TOP of grace. Here are two of my favorites on this topic.
Titus 3:9-11 "But avoid foolish questions, and genealogies, and contentions, and strivings about the law; for they are unprofitable and vain. A man that is a heretic after the first and second admonition reject; Knowing that he that is such is subverted, and sinneth, being condemned of himself."
1 Timothy 1:4-9 "Neither give heed to fables and endless genealogies, which minister questions, rather than godly edifying which is in faith: so do. Now the end of the commandment is charity out of a pure heart, and of a good conscience, and of faith unfeigned: From which some having swerved have turned aside unto vain jangling; Desiring to be teachers of the law; understanding neither what they say, nor whereof they affirm. But we know that the law is good if a man uses it lawfully; Knowing this, that the law is not made for a righteous man, but for the lawless and disobedient, for the ungodly and for sinners, for unholy and profane."
Christ is the fulfillment of the law. When we are IN CHRIST we fulfill the whole law including the Sabbath. We will be receiving and outflowing the love of God in our hearts. We will be loving thy neighbor which is what glorifies God and why He created us. Those led by the Spirit of God are not under the law.
Romans 10:4 "For Christ is the end of the law for righteousness to every person that believeth."
Galatians 5:18 "But if ye be led of the Spirit, ye are not under the law."
As a child of the covenant, walking by faith we are not under the Mosaic law. We have forgiveness of our sin when we stumble so long as we forgive others (which is what love does).
These Messianic and Hebrew Roots movements are leading people back into bondage and denying the power of the Lord who already BOUGHT THEM (2 Peter 2 on false teachers). There is nothing you can do in your flesh to make yourself acceptable in the sight of God. He did it, and He is mighty to save. We need to repent from these dead works and move on to maturity in Christ, which is love. I hope people understand the wonder in this passage. Most have forgotten the purification from their former sins and are striving in their flesh to be holy and righteous before God instead of walking in truth and love.
2 Peter 1:4-9 "Whereby are given unto us exceeding great and precious promises: that by these ye might be partakers of the divine nature, having escaped the corruption that is in the world through lust. And besides this, giving all diligence, add to your faith virtue; and to virtue knowledge; And to knowledge temperance; and to temperance patience; and to patience godliness; And to godliness brotherly kindness; and to brotherly kindness charity. For if these things are in you, and abound, they make you that you shall neither be barren nor unfruitful in the knowledge of our Lord Jesus Christ. But he that lacketh these things is blind, and cannot see afar off, and hath forgotten that he was purged from his old sins.
YOU HAVE BEEN FORGIVEN IF YOU ARE IN THIS NEW COVENANT AND WE MUST NEVER FORGET THIS.
Many Messianic types (not all) have confused FORMS of Godliness with true godliness. Love is the highest attainment of Godliness as God is love. You can see that in 2 Peter 1. Without it we are nothing and neither is our testimony (1 Cor 13). I see many walking around as evil judges condemning people, hurling accusations and having no love in their heart. They only love those who love them, and love that has partiality behind it is not really love and is driven by selfishness. I have come to see and understand that these folks are seeking to share the glory with God and are in need of prayer and repentance. Only then can the love of God pour into them so it can be poured back out as a fountain of living water.



Article by Pete Wilson
___________________________________________________________________
I would also like to share some helpful facts from "Babylon Forsaken Ministries" about why Christians aren't condemned for breaking the Sabbath.
WHY AREN'T CHRISTIANS CONDEMNED FOR BREAKING THE SABBATH?
ANSWER: We believe the Old Testament laws governing Sabbath observance are ceremonial, not moral, aspects of the law. We believe they were only binding upon those who were under the Old Covenant, and therefore Christians are not required to observe them. Here are 12 facts about this:
FACT #1 The Sabbath was the sign to Israel of the Mosaic Covenant (Ex. 31:16-17, Ezek. 20:12, Neh. 9:14) Since we are now under the New Covenant (Hebrews 8), we are no longer required to observe the sign of the Mosaic Covenant.
FACT #2 In Colossians 2:16-17, Paul explicitly refers to the Sabbath as a shadow of Christ, which is no longer binding since the substance (Christ) has come. It is quite clear in those verses that the weekly Sabbath is in view. The phrase "a festival or new moon or a Sabbath day" refers to the annual, monthly, and weekly holy days of the Jewish calendar (1 Chron. 23:31, 2 Chron. 2:4 & 31:3, Ezek. 45:17, Hos. 2:11). If Paul were referring to special ceremonial dates of rest in this passage, why would he have used the word "Sabbath?" He had already mentioned the ceremonial dates when he spoke of festivals and new moons.
FACT #3 The New Testament never commands Christians to observe the Sabbath or condemns them for breaking it.
FACT #4 According to the Bible the 'Law' only speaks to them that are under it. (Rom. 3:19), and Christians are not under the law (Gal. 3:24-26, Romans 6:14)
FACT #5 Nowhere in the Old Testament are the Gentile nations commanded to observe the Sabbath or condemned for failing to do so. That is certainly strange if Sabbath observance is meant to be an eternal moral principle.
FACT #6 There is no evidence in the Bible of anyone keeping the Sabbath before the time of Moses, nor are there any commands in the Bible to keep the Sabbath before the giving of the Law at Mt. Sinai. (Exodus 16)
FACT #7 When the apostles met at the Jerusalem council, (Acts 15), they did not impose Sabbath keeping on the Gentile believers.
FACT #8 The apostle Paul warned the Gentiles about many different types of sins in his epistles, but breaking the Sabbath was never one of them.
FACT #9 In Galatians 4:10-11, Paul rebukes the Galatians for thinking God required them to observe the days set aside in the Old Covenant (including the Sabbath).
FACT #10 In Romans 14:5, Paul forbids those who observed one day of the week above others who treated every day alike.
FACT #11 Everyday to the believer is one of Sabbath rest since we are resting in the salvation of the Lord. (Hebrews 4:9-11)
FACT #12 Sunday has not replaced Saturday as the Sabbath. Rather Sunday is a holiday that some believers set aside to commemorate Christ's resurrection, which occurred on the first day of the week.