Some Boast of Being "Chosen", but Love Does Not Boast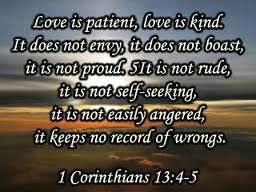 I am noticing some ministries that seem to love to boast of being "chosen" of God. It is true that the Bible tells us that the Lord has some chosen children, but these children are not to boast and behave proudly but are to be humble, meek, and kind. Boasting that one is "chosen" sounds very prideful and rude. It seems that certain cults, in particular, like to boast of being "chosen" as they exclude all others. The only way to become one of the "chosen" is to believe in the exact same way that they believe, and if they don't then they are not one of the "chosen." The simple truth though is that those who are truly chosen children of God will not be people who are known for boasting and behaving in prideful ways. They will not be people who go about publicly saying they are "chosen" for this is a type of boastful behavior. Love does not boast as we read in 1 Corinthians 13:3-4....
"Love is patient, love is kind. It does not envy, it does not boast, it is not proud. 5 It does not dishonor others, it is not self-seeking, it is not easily angered, it keeps no record of wrongs. 6 Love does not delight in evil but rejoices with the truth. 7 It always protects, always trusts, always hopes, always perseveres."
Many want to say they are "chosen" but the Lord taught that we will know them (the truly chosen) by their fruits. (Matt. 7:16) Thankfully God is not the author of confusion (1 Cor. 14:33) and we can know from scripture that children of the Lord will exhibit certain traits or fruits from walking in a Spirit-led direction. The Beatitudes express some of these fruits: meekness, peacemakers, merciful, pure in heart. those who hunger and thirst for righteousness, those who mourn and are poor in spirit, those who are persecuted for righteousness' sake. We can also read of the fruits of the Spirit (Gal. 5:22-23) as being: love, joy, peace, patience/longsuffering, kindness, goodness, faithfulness, gentleness, and self-control.
The book of 1 John also gives clear fruits/traits of those who are truly children of the Lord to include:
1.) They will now walk in the Light and not in the darkness.
2). They will keep His commandments.
3.) They will love their brother and not hate their brother.
4.) They will not love the world.
5.) They will practice righteousness.
6.) Those born of God do not practice sin for they have been born of God, but he who sins is of the devil.
So let us take comfort in the words given to us by the Holy Spirit so we may rest in assurance and our joy may be full. Let's be on the alert for certain teachers/people who like to boast that they are "chosen" and may even be able to pour out dozens and dozens of scriptures, yet their fruits are showing this not to be true.
Message by F. A. Butler