Caution: Beware of the teaching of "Once Saved Always Saved" (OSAS)
I. Learn the Truth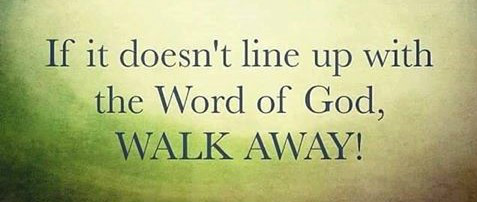 This is a topic that is widely debated but I believe it is an important subject to think about and seek the Bible carefully about. This is also a subject that makes many people feel a certain level of anxiety or stress. However, this topic should not upset us because as we grow in the Lord His words and teachings bring us more and more comfort. I appreciate what Dr. Michael Brown said about the topic of OSAS when he stated "Take comfort, be assured in your relationship with The Lord, and fear not for if you have set your heart on serving Him, He will keep you faithful to the end. If you play games then fear!" He also wisely stated "God who started the work will finish the work. Put your trust in Him, don't try to push open the emergency door in the plane and commit spiritual suicide! Let Him get you safely to your destination." Dr. Brown knows that we as Christians have nothing to fear as long as we continue to walk with the Lord. But he also knows that we need to be vigilant, wise, and discerning and to understand the fullness of biblical truth on this subject.
What does the Bible teach about concerning if a person can die spiritually after he has once been saved? Jesus, Paul, and none of the apostles taught unconditional eternal security, or 'once saved always saved' (OSAS). We must be exceedingly careful of this widespread doctrine in our day since it has pulled people from the truth, has led multitudes away from the fear of the Lord, and has led many even back on the wide road of destruction. It is a 'safety in sin' doctrine that gives false security.
To begin with, salvation is not something to be taken for granted. Salvation is the Most Wondrous amazing gift that can ever be given to someone and it is a gift given to someone completely for free. Salvation was paid for by Jesus' precious blood and there is nothing of more value to ever exist than the wondrous gift of salvation. If this gift of salvation starts to get neglected (Hebrews 2:1-3), abused (Hebrews 3:12-15), and down-right trampled on (Hebrews 10:29), this gift can and will be taken away if we are not careful to walk with/abide in our blessed and precious Lord. So we need to wake up from our sleep and learn the full truths of God before we begin to believe the twisted views of men. The Bible even teaches us that we need to "Work out our salvation with fear and trembling" (Phil 2:12-13), and that "God has no pleasure in those who draw back." (Heb. 10:38)
Let's look at what the Bible teaches very directly about those who eventually get careless and one day actually trample on Jesus' precious blood by falling back into sin, and let's find out how God will one day deal with people who insult the Spirit of Grace in such a demeaning way.
Let's look at Hebrews 10:26-31 very carefully. Here we read: "For if we sin willfully (knowingly, purposefully, deliberately) after we have received the knowledge of the truth, there no longer remains a sacrifice for sins, but a fearful expectation of judgment, and fiery indignation which will devour the adversaries. Anyone who has rejected Moses' law dies without mercy on the testimony of two or three witnesses. Of how much worse punishment, do you suppose, will he be thought worthy who has trampled the Son of God underfoot, counted the blood of the covenant by which he was sanctified a common thing, and insulted the Spirit of grace? For we know Him who said, 'Vengeance is Mine; I will repay, says the Lord.' And again, 'The Lord will judge His people.' It is a fearful thing to fall into the hands of the living God."
These verses are exceedingly clear that if a once born-again believer who knew God's truths, and was once sanctified, falls back into sin (which is the same as trampling on the Son of God and on His precious blood), that there no longer remains a sacrifice for this person's sins and he will have to face God's righteous judgment! This isn't being said to discourage us, but to wake us up to God's truths that are often times neglected or twisted!
So we can now understand perfectly well that God's salvation is conditional. It is conditional upon if we decide to remain faithful to Him. Now don't lose heart for the Bible is full of good news and perfect guidance.
The first thing we need to understand is that we can take full security in the fact that God will always be faithful to His part of the promise! (Philippians 1:6 etc.) He will never leave us or forsake us, but the question is, will you ever walk away from or forsake Him?

Will you keep your hand to the plow and not look back? (Luke 9:62)
Will you endure to the end and continue in the faith? (Col. 1:23)
Will you continue to fight the good fight? (1 Tim. 6:12)
Will you take up your cross daily? (Luke 9:23)
Will you stay on the straight and narrow path? (Matt. 7:13-14)
Will you overcome to receive the crown of life and not get blotted out of the Book of Life? (Rev. 3:5)
Will you put on the full armor of God each day? (Ephesians 6:11-18)
Will you continue to love and obey God faithfully with all your heart? (John 14:15-24)
Will you grow on the good soil, or will you get neglectful and allow the soil that the seed of His word was planted in to become 'rocky' or 'thorny'? (Matt. 13)
Here is some other scripture that clearly reveals that a true believer can depart from the faith and thus walk away from God:
Heb 3:12-19 "Take heed, brethren, lest there be in any of you with an evil heart of unbelief, in departing from the living God. But exhort one another daily, while it is called today; lest any of you be hardened through the deceitfulness of sin. For we are made partakers of Christ, if we hold the beginning of our confidence steadfast unto the end; While it is said, Today if ye will hear his voice, harden not your hearts, as in the provocation. For some, when they had heard, did provoke: howbeit not all that came out of Egypt by Moses. But with whom was he grieved forty years? Was it not with them that had sinned, whose carcasses fell in the wilderness? And to whom sware he that they should not enter into his rest, but to them that believed not? So we see that they could not enter in because of unbelief."
Rev 2:4-5 "Nevertheless I have somewhat against thee because thou hast left thy first love. Remember therefore from whence thou art fallen, and repent, and do the first works; or else I will come unto thee quickly, and will remove thy candlestick out of his place, except thou repent."
2Peter 2:20-22 "For if after they have escaped the pollutions of the world through the knowledge of the Lord and Saviour Jesus Christ, they are again entangled therein, and overcome, the latter end is worse with them than the beginning. For it had been better for them not to have known the way of righteousness, than, after they have known it, to turn from the holy commandment delivered unto them. But it is happened unto them according to the true proverb, The dog has turned to his own vomit again; and the sow that was washed to her wallowing in the mire."
Rev 3:1-3 "And unto the angel of the church in Sardis write; These things saith he that hath the seven Spirits of God, and the seven stars; I know thy works, that thou hast a name that thou livest, and art dead. Be watchful, and strengthen the things which remain, that are ready to die: for I have not found thy works perfect before God. Remember therefore how thou hast received and heard, and hold fast, and repent. If therefore thou shalt not watch, I will come on thee as a thief, and thou shalt not know what hour I will come upon thee."
1Cor. 10:12 "Wherefore let him that thinketh he standeth take heed lest he falls."
1Timothy 5:15 "For some are already turned aside after Satan."
Rom 11:22 "Behold therefore the goodness and severity of God: on them which fell, severity; but toward thee, goodness, if thou continue in his goodness: otherwise thou also shalt be cut off."
Col 1:21-23 "And you, that were sometime alienated and enemies in your mind by wicked works, yet now hath he reconciled in the body of his flesh through death, to present you holy and unblameable and unreproveable in his sight: If ye continue in the faith grounded and settled, and be not moved away from the hope of the gospel, which ye have heard, and unblameable and unreproveable in his sight: If ye continue in the faith grounded and settled, and be not moved away from the hope of the gospel, which ye have heard, and which was preached to every creature which is under heaven; whereof I Paul am made a minister."
1Tim 4:1 "Now the Spirit speaketh expressly, that in the latter times some shall depart from the faith, giving heed to seducing spirits, and doctrines of devils."
James 5:19-20 "My brothers and sisters, if one of you should wander from the truth and someone should bring that person back, remember this: Whoever turns a sinner from the error of their way will save them from death and cover over a multitude of sins."
2 Peter 3:17-18 "You, therefore beloved, knowing this beforehand, be on your guard so that you are not carried away by the error of unprincipled men and fall from your own steadfastness, but grow in the grace and knowledge of our Lord and Savior Jesus Christ. To Him be the glory, both now and to the day of eternity. Amen."
II. GREEN LIGHT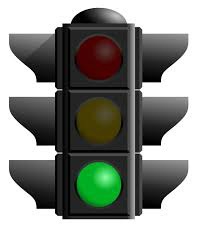 The most important question is: How can we have 100% assurance that we can have complete, absolute security in our salvation? You can have complete assurance if you check yourself (work out your salvation with fear and trembling - Phil. 2:12, and test yourself to make sure you're in the faith - 2 Cor. 13:5) and find that:
1. You continue to not deny Christ and His full divinity as well as His full humanity in order to come and save mankind. You believe that God alone by grace provided the way of salvation to all who have faith in Christ and His works on the cross to save us from our sins. You also believe that true faith is evidenced by a new born-again life that submits to God and lives to sincerely follow Him. Here is some Scripture that explicitly teaches the divinity of Christ and that He is a member of the Godhead along with God the Father and God the Holy Spirit: Matt. 1:23, Isaiah 9:6, Romans 9:5, Titus 2:13, Heb. 1:8, 1 John 5:20, John 20:28. Beware of those who deny Christ's divinity and humanity for this is a form of unbelief and rejection of crucial biblical truths. 1 John 2:22-23 tells us: "He is antichrist who denies the Father and the Son. Whoever denies the Son does not have the Father either, he who acknowledges the Son has the Father also." People like the Jehovah Witnesses, who deny Jesus' divinity are diminishing Jesus Christ in every way and this is a form of rejecting and denying the Lord Jesus in unbelief (1 John 2:22-23).
2. You have a holy fear of God, and want to completely live to obey Him and do His will as you abide in Him.
You live to follow Jesus in complete sincerity and to go God's Way. (Hebrews 12:25-29)
3. You have a clear conscience before God and man. (Acts 24:16) You live a life of obedience to God, and when you recognize any form of sin in your life (thought of bitterness, jealousy, pride etc) or any other type of failure, you want to listen to the Holy Spirit's prodding to turn from it and confess it right away, so it will not grow. You want to stay on the straight and narrow road of faithfully following Christ and maintaining a clear clean conscience.
4. You have an intimate personal relationship with God, and you talk/pray to Him regularly. (Matt. 6:5-15)
5. You love God with all your heart, mind, soul, and strength and see your life as nothing and rubbish in comparison to God, but see God as everything. (Luke 10:27, Phil. 3:7-12)
You would be willing to give up everything including your life for the Lord.
6. You love your neighbor as yourself. This involves continuing to seek ways to share the gospel with them which is the greatest way to show sincere love for another (Matt. 22:36-40).
7. You continue as a soldier for the Lord. You continue to fight the good fight (1 Tim. 6:12), take up your cross daily (Luke 9:23), put on the full armor of God each day (Eph. 6:10-18), and are willing to go through persecutions and hardships as a Soldier for God (2 Tim 2:3-4).
8. You continue to persevere for God. You continue to hold on (Rev. 3:11), overcome (Rev. 21:7-8), endure to the end (Matt. 10:22), keep your hand to the plow (Luke 9:62), and stand firm through persecutions (Matt. 24:12-13). If we do so, we will eventually receive the crown of life and hear our Father say 'Well done My good and faithful servant.' (Matt. 25:23)
9. You continue to follow the Holy Spirit's leading by walking in holiness, and righteousness, and your ways are true and just. (Gal. 5:16-25, Romans 8:1-17) You walk in purity and in the Light and have left behind all ways of darkness. You battle ways of darkness by the Spirit. You seek God in earnest prayer for help and spiritual power to overcome.
10. You forgive others, just as God in His mercy forgave you. (Matt. 6:14, Eph. 4:32, Col. 3:13)
11. You remain faithful to God and will not deny Him or His Word. (Matt. 10:33)
You are not ashamed to speak of Him, but will boldly shine for Him!( Heb. 11 and 12)
12. You stay on the straight and narrow path. (Matt. 7:13-14)
13. You have the fruit of the Spirit and are bearing fruits of righteousness. (Gal. 5:22-23)
14. You continue to sow to please the Spirit and not the flesh, and you are spiritually minded, not fleshly minded. By the Spirit, you put to death the misdeeds of the body to live. (Rom. 8:13) (You keep your mind set on the Spirit and discipline your body.)
15. You continue in steadfast Bible study, fervent prayer, and true devotion to God. (1 Peter 2:2, 1 Thess. 5:17)
16. You have complete faith and trust in Almighty God. (Hebrews 11)
17. You are growing steadfastly in God's grace, knowledge, maturity, obedience, character, faith, humility, and love. (2 Peter 3:18)
Your spiritual direction is being led by the Holy Spirit, and not by your fleshly desires.
_________________________________________________________________________
If you find these traits in your life you can have true assurance of your salvation and right relationship with God! God will bless you and give you exceeding wisdom! You will be clean and clothed in a 'white robe' of righteousness! If you live fully for God, He will keep you sealed and in the Book of Life and continue to guide you. If we fully live for Him and to follow Him, God is able to keep us from falling and to help us to endure to the end. What amazingly good news!
III. YELLOW LIGHT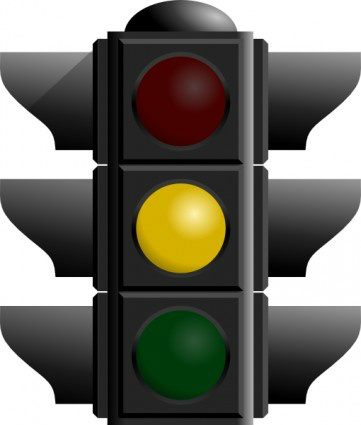 Now we're going to look at some not so good news. God is not at all pleased with those who decide to get careless with their spiritual walk. Turning away from God is normally a process of progressively "drifting away" from God that can easily lead to the "shipwreck of our faith" as we read about in Hebrews 2:1-4. Here we read: "Therefore we must give the more earnest heed to the things we have heard, lest we drift away. For if the word spoken through angels proved steadfast, and every transgression and disobedience received a just reward, how shall we escape if we neglect so great a salvation, which at the first began to be spoken by the Lord, and was confirmed to us by those who heard Him..."
We need to be exceedingly alert and vigilant during our spiritual walk with the Lord for there are many distractions that can pull us away from our close walk with Him, as well as many unsound doctrines from "wolves in sheep's clothing" that we might start to believe if we get careless and do not pay close attention to what the Bible actually teaches. In fact we could easily get on completely shaky ground with God and could even be on the verge of getting completely separated from God (getting our lamp stand removed - Rev. 2:5, and being 'spewed' away from God - Rev. 3:16) and dying spiritually if we continue in such ways as the following:
1. You start to head toward the path of "drifting away" from God as we read about in Hebrews 2:1-4. This can happen easily through developing habits such as excessive TV viewing, excessive time spent on one's own personal interests, excessive time spent engaged in entertainment/pleasures, listening to questionable music, etc. It is not a sin to enjoy some pure and clean forms of entertainment now and then, but the problem comes when we make a 'god' or 'idol' out of these pleasures by becoming a lover of pleasure more than a lover of God (2 Tim. 3:4).
God needs to be first in our lives and we are to have "no other gods before Him" (Exodus 20:3). We can also become "lovers of self" (2 Tim. 3:2) instead of being first and foremost a lover of God and begin to become obsessed with making money, having to own the latest items, or being overly zealous with our own ambitions, educational pursuits etc. The Bible tells us that we can't love God and this world both for we will either love one and hate the other (Matt. 6:24, 1 John 2:15-17 etc.) If we can recognize that we've been drifting in this direction we need to quickly repent of these tendencies and make God our first love again. God is merciful and patient with us but we need to stop abusing his patience and we need to wake-up before God takes His candlestick from us. (Rev. 2:5)
2. You neglect serious Bible study, prayer, and meditation. To neglect serious Bible study, prayer, and meditation is exceedingly dangerous to our spiritual well being. The Bible emphatically encourages us to thirst for the truths of the words of God as we read in the Bible so that we may grow (1 Peter 2:2). The Bible also encourages us to be like the Bereans who searched the scriptures daily to find out eagerly if the teachings they were receiving from men were true (Acts 17:11). We must also be like the Bereans and test everything we hear in relation to the word of God, for the Bible warns that deceivers will grow worse and worse (2 Tim. 3:13) and if we don't test everything we could easily succumb to a dangerous deceptive doctrine and fall away from the faith.
As 1 Peter 5:8-10 teaches us, we must be sober and vigilant for the devil walks about like a roaring lion seeking whom he can devour. The way to be sober and vigilant is by knowing the truth of God's word and walking faithfully according to it, as we are exceedingly careful to not trust the teachings of men until we test them for truth against the word of God. We also need to walk close to our Lord daily by continuing in prayer and meditation upon His perfect word that will guide and encourage us every step of the way. We need to constantly walk in the Spirit who will comfort and guide us and lead us faithfully into all truth. Praise God for His continuous guidance and help to all who sincerely seek Him with a sincere and obedient heart.
3. You continue to get 'hypnotized' by listening to smooth-talking, watered-down, 'sugar-coated' "Bible teachers" who have basically no true spiritual meat to share. The Bible carefully warns us that the time will come when men will not be able to endure sound doctrine and that because of this men will be heaping up teachers who will "please their itching ears" (see 2 Tim. 4:3). There are a phenomenal amount of religious leaders in our day who do not seriously teach the full truths of the Bible but instead just teach "easy-beliefs" type messages to make their congregations feel happy. These are definitely not true Bible teachers though, but are instead referred to in the Bible as "wolves in sheep's clothing". The vast majority of religious leaders in our day are those who "please men's itching ears" and who do not teach sound true doctrine, so we must be exceedingly cautious about whom we choose to listen to and make sure that the teacher's number one concern is to share the full truths of the Bible.
It seems that it is nearly impossible to find any religious leaders who are deeply dedicated to God's truths but instead most of them are more concerned about more petty matters such as their religious robes, immaculate church buildings, many forms of entertainment, and their many deceptive, empty teachings and tracts. So we need to be ever so careful to not get lulled into believing these watered down "easy listening" teachings that could lead us from serving God with true passion and devotion, but instead we need to continue to stand firm on God's powerful, mighty, and convicting truths (Heb. 4:12).
4. You partake in excessive godless chatter which will not edify you. 2 Tim. 2:16
5. You have some friends who are bad influences with unholy values. We can remember how Solomon followed God for decades, yet later on in his life, he did not heed God's warning and married women who turned his heart away from God (1 Kings 11). People who influence us in the wrong way will simply turn our hearts from God. Even at the end of his life, Solomon desired the murder of Jeroboam, so sadly from what we read there is no clear evidence that Solomon ever returned back to the Lord. Love your enemies, but do not let them become your close friends since they will try to lead you astray. Try to share the gospel with them, but if they refuse to listen, don't continue to cast your pearls of truth to them for they will just trample on your pearls. Choose friends wisely who will build you up spiritually and vice versa.
6. You are not careful about your thought life and what you put into your mind. Dispose of ALL books, magazines, games, music, movies and whatever else that will fill your head with impure thoughts, and only allow in highly selective music, reading material (in particular the Bible) etc. that will build you up spiritually in the Lord. If we don't take this seriously, we could easily stray from the Lord and get right back into our old sinful habits and then be turning our backs on God again.
7. You are starting to get lazy, apathetic, and complacent in your spiritual walk overall. This is very dangerous too since it leads to drifting away, spiritual regression, becoming unfruitful, your love for God and others will grow cold, and eventually you'll fall back into sinful habits if you don't wake up.
8. You are not careful to use your God-given talents to honor God, but mostly use your talents for personal reasons and personal glorification. (See the parable of the talents - Matt. 25:14-30)
9. You are not careful to DAILY review/examine your life and confess any slip in your character that can grow and grow and lead to dark sin(s). Every day in prayer let God know if you had any type of boasting, fretting, bitter thought, lack of patience etc and confess it right away so that this problem will not grow larger, but instead can be stopped dead in its tracks. Remember Jesus warned that even if someone exclaimed "You fool!" that we would be in danger of hell fire. (Mt. 5:21-22) We must watch ourselves carefully and follow the convicting guidance of the Holy Spirit at all times.
The above careless and lackadaisical ways are all exceedingly dangerous practices! These are practices that will only lead a person into a stronger relationship with all that is opposed to God, and into a weaker relationship with God. Yes, it is true that the Holy Spirit will convict true Christians and God will chastise those who fall into all these different paths, but we are living in a time of such abundant complacency and apathy that it can be very easy to get distracted from what matters and not even heed the Holy Spirit's conviction upon our hearts. Also, the Bible teaches that God's persistent discipline did not work at bringing back straying children many times. An example of this can be read in Jeremiah 32:33 where we read, "They turned their backs on me and not their faces; though I taught them again and again, they would not listen or respond to discipline." (see also: Jeremiah 2:30, 5:3, and 7:28.)
We must also remember that in the end, it is YOUR call. You have to decide if you will endure the chastisement (Hebrews12:7) and the calling of the Holy Spirit by turning from dangerous apathetic habits and instead start getting 'hot' for God. The dangerous alternative to not heeding the Spirit's warnings is that you will continue on a dangerous path which could EASILY lead you from the straight and narrow pathway and onto the road of darkness and separation from God. Remember the devil uses subtle tricks very often to try to get us to ignore God's teachings and get us to try and see sin as 'no big deal' and even 'good' as He did with Eve. He is an 'angel of light' so always keep your spiritual guard up and fight his wicked deceptions vehemently with the power of the Holy Spirit! Your eternal soul and the souls of others are not worth the temporary, vile ways of sin. Whatever you do don't give up and don't get discouraged. Keep walking steadfastly with God! He will help, guide, and bless you if you continue to grow in Him.
IV. RED LIGHT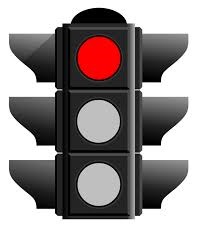 If a person decides to continue on a path of drifting away from God, this could very easily and quickly lead to a path of darkness and lead to complete separation from God once again. What are the signs that a person has died spiritually and is no longer on the road to heaven, but is back on the road to hell?
1. They live according to the flesh instead of overcoming the flesh by the power of the Spirit. Paul warns in Romans 8:13 that if you live according to the flesh you will die. We must live by the Spirit and put to death the deeds of the body in order to live. Galatians 5:24 teaches "Those who are Christ's have crucified the flesh with its passions and desires." Galatians 6:8-10 tells us that the one who sows to please his flesh, will of the flesh reap destruction; the one who sows to please the Spirit, from the Spirit will reap eternal life. Let us not grow weary in doing good for at the proper time we will reap a harvest if we don't give up."
Out of a true love for God and for the safety of our souls we need to throw out anything and everything that sows to the flesh! We need to throw out all horoscopes, sorcery books, books/magazines/movies/games/music/clothes etc that glamorize and feed to the flesh! This just can't be emphasized enough for it's a dangerous wide road of destruction that most people are traveling on. Plus we need to grow strong in anything that can help us to sow to the Spirit and keep us strong spiritually. Remember the 'Parable of the Sower' which reminds us that if we let the seed of God's Word implanted in us grow on the good ground (holiness, righteousness, God's Word etc) we will continue to grow and grow and grow; BUT if we let the seed of God's Word implanted in us begin to grow on rocky ground (we let the world's temptations and sins become more important to us than God), or on thorny ground (we let the cares, pleasures, and riches of life have higher priority to us than God), we will stop growing and die spiritually. We need to be WISE, and GROW on the good ground! We need to clear out any 'rocks' and 'thorns' that try to litter on the 'ground' of our hearts and create only good ground so that the seed implanted and born in our hearts by God won't die but instead will grow and grow!
2. They will partake in the works of the flesh. There are many areas of the Bible that describe to us the characteristics of the works of the flesh. Paul warns us to NOT be deceived, for if we find that we are living in these ways, we are not one of God's children and we will not inherit the Kingdom of God. Some of these verses include Gal. 5:19-21, Ephesians 5:5-7, Revelations 21:8 and 22:15, 1 Corinthians 6:9-10, Mark 7:20-23 etc.


Some of these characteristics of the works of the flesh are evidenced by: adultery, fornication (sexual relationships outside of marriage), licentiousness (sexual promiscuousness and lewdness), idolatry (this relates to religious idolatries as well as idolizing this world as seen by someone having an excessive love for the pleasures and things of this world over a love for God), sorcery, hatred, contentions (strife and harsh debates), jealousies, outbursts of wrath(fits of rage, abuse etc), selfish ambitions, dissensions(strong discord and disagreements), heresies (believing doctrinal lies in the area of core doctrines, that are not in accordance with the truth of God's Holy Word), envy, murderers, drunkenness, revelries (wild parties especially those that involve drunkenness/intoxication), covetousness, uncleanness (filthy, foolish talk, coarse jesting etc.), cowardly (afraid to share the true gospel), unbelieving, abominable (perverted practices, homosexuality, those who lust after pornographic images etc), all liars (deceivers and those who are full of tricky schemes, or lie about God's truths etc.), the unrighteous, sodomites (homosexuals and vile corrupt ways), thieves (schemers etc), revilers (abusive profane language), greedy, extortioners.
3. They will walk in ways of darkness and not in the Light. The book of 1 John gives great discernment in order to know if one is a child of God or not.
-A true child of God walks in the light and sincerely obeys God's commandments and will have no desire to be purposefully sinning in any way (1 John 3:9-10). He who is born of God will abide/walk with God and will not sin and cannot sin in a purposeful and ongoing way (1 John 3:9, 1 John 5:18). He who sins in such a way as this is of the devil as the Bible teaches (1 John 3:8). Only when we walk in the light does Jesus' blood cleanse us from all sin (1 John 1:7). Christians should not sin and avoid all sin and have no license to sin, yet if he might stumble and have an unkind thought, impatient moment, or time of weakness he needs to confess it right away and not allow it to grow! God promises if we confess our sin, that He will forgive us (1 John 1:9).
-A true child of God loves his brother (1 John 3:10). He will do all in his power to see that others come to know the truth of salvation. We can't force the message, but must share it in love and wait to see if they will accept it or reject it. We will pray for them. We will seek to help those in other forms of need as well. If a person hates his brother he walks in darkness and has no true compassion. This book even tells us that one who hates is on the same level as a murderer!
-A true child of God will not love this world (1 John 2:15). This world is passing, and the lusts of life are not of the Father, but of this world, and if anyone loves the world, the love of the Father is not in them (1 John 2:15). Their heart will not be dwelling on the things of this world, but their true passions will be for the will and desires of God which are eternal.
-A true child of God will not succumb to the dark teaching that denies the Son and His everlasting deity as well as His true humanity. (1 John 2:22-24) Whoever honors the Son, honors the Father, and whoever does not honor the Son, does not honor the Father who sent Him. (John 5:23) If we truly honor the Son and do not deny Him, then we will acknowledge that He is fully divine ( Matt. 1:23, Isaiah 9:6, Romans 9:5, Titus 2:13, Heb. 1:8, 1 John 5:20, John 20:28) and that He also became fully human when He was born on this earth in order that He might provide the way of salvation for lost mankind.
4. They may not necessarily partake in a pattern of sin that is outward and overt (i.e.: illicit sex, criminal behavior etc), but they may partake in an equally evil type of sin of the heart that will dominate their heart. We must remember that sin comes in many forms, and the sins that are most often associated with apostasy (falling away from the faith) are sins of the heart (such as jealousy, envy, bitterness, pride, anger etc) and these attitudes can come to dominate the heart if they are not quickly confessed. Remember that Jesus said that even those who exclaim "You fool!" are in danger of hell fire (Matt. 5:21-22) because anger is a sin of the heart and it can quickly grow to hate and murderous type thoughts unless we quickly confess such sinful thoughts as soon as possible. All Christians can stumble and sin, but as true Christians we will want to always desire to walk in the Spirit and follow the Spirit's leading to examine ourselves and confess any sinful type of thinking or behavior as soon as we recognize it in order that we can continue to receive forgiveness and in order to maintain a continuing relationship of faith with our Lord. (1 John 1:9)

So always remember that there are MANY types of sin that a person can fall into, but what we have to be really on the lookout for is if we give our heart's allegiance to any such sin which will be shown by a sustained and determined pattern to choose against God and to continue in what displeases Him because this type of stubborn refusal to confess is what hardens the heart, deadens the conscience, and alienates us from God and God from us. This will put our faith to death (shipwreck our faith), for we can't serve both Christ and sin (Romans 6:16). As true Christians who desire to continue in the faith above all else in life, we have to own up to any sin that might occur and we are instructed that we are to confess any sins and the Lord will provide forgiveness. (1 John 1:7-9)


To continue in sin is just not possible for true Christians as the book of 1 John points out (1 John 3:9-10) because the Christian life is all about being born anew to follow Christ and this means that we will always desire to sincerely live in obedience to Him. If we have fallen we can still have hope, for we are promised that through sincere repentance and confession that we can maintain our walk on the narrow road of sincerely following Christ. To sincerely repent or confess gives evidence that we are truly committed to our faith in Jesus Christ and that our temporary failing was but a momentary departure from our true purpose and not some new wrong path that we have now embraced. However, never allow any "temporary deviation" to continue to develop into a new and wrongful path to travel on, for if we do not confess our sin, but continue in it with a hardness of heart, we will not receive God's precious forgiveness. Always heed the Holy Spirit's leading and never quench the Spirit for the Spirit will lead us to confess any deviation in our walk, and to continue on the pure, holy, blameless path.
5. Final note: If we continue in the unfaithfulness of some sort of sin without repenting, then we will be like the Jews who were unfaithful as they denied Christ and His deity, and their 'branch' was broken off. (Romans 11:17) However, the Gentiles were faithful so they were grafted in as a branch instead. This teaches that anyone can be broken off from God's family, or grafted into God's family based on if they continue in His goodness or if they discontinue in His goodness; the faithful receive blessings, but the unfaithful receive God's wrath. Also see Ezekiel 18:24-28 and Ezekiel 33:18-20 which show God's completely fair and just judgment. Plus check out 2 Chronicles 15:2 (when we forsake God, God forsakes these) and James 1:12-16.
We must remember that spiritual life is not like physical life. When a person dies physically they very seldom come back to life unless great work is done to try and revive them shortly after they die. If a person is born spiritually we know he is born spiritually because he has an entirely new Spirit that now rejects his former ways, and now lives completely for God. Yet, one can die spiritually too just like a plant that is neglected and uncared for and not given proper nourishment but is instead fed with what does not nourish it. We, therefore, MUST nourish ourselves spiritually and God WILL help us and encourage us. Yet, on the other hand, He won't force us to follow Him, and if we don't grow we will die spiritually. But what BLESSINGS we receive when we GROW in GOD! And take comfort in knowing that God promises that He will never give us more to bear than what we are able to cope with. (1 Cor.10:13) We can rest in His complete faithfulness and wonderful promises.
V. HOPE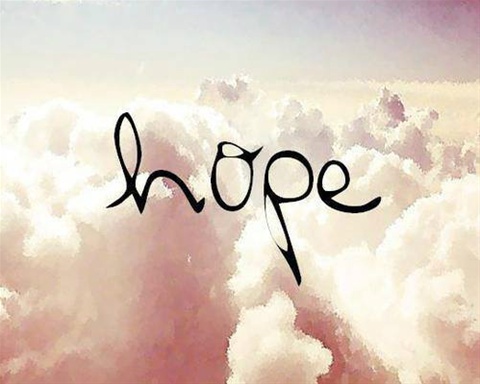 Now, is there hope? Is there hope for someone who was a believer and who truly lived to follow the Lord, but who turned away from the straight and narrow path?
YES, Absolutely! What amazingly good news! God has amazing mercy, long-suffering, patience, and compassion. He is so perfect and just in all His ways and all we have to do is read the Parable of the Prodigal Son to understand this. The prodigal son turned away so dreadfully that he was always among prostitutes and loved the world so greatly, yet, when he humbled himself and sincerely repented of his wicked past and humbly returned to his father, he was welcomed back with great joy and celebration! This parable symbolizes how wonderful, loving, gracious, forgiving, and merciful the heavenly Father is! No words can express the greatness of His love or express the vast long-suffering He endures as He reaches out to us so patiently. However, as we look at this example of the prodigal son and other examples in the Bible of people who fell away and returned to God, we clearly realize that the repentance must be sincere. If it is not sincere and the person continues to be double-minded and fall away, God will simply give them over to their sin, and to a reprobate mind, with a seared conscience. (Rom. 1:28-29) Also for further good news of hope in this area, you can read throughout the entire Old Testament of God's intense desire for people to simply heed His Word and return to Him with all their hearts and He will graciously and mercifully forgive and welcome such people back to Him. It's so simple and so wonderful!
Remember, God wants us to love others so much that if they fall away from the Lord and fall back into sin, that we truly strive to lead them back to the Lord. This is made very clear in James 5:19-20 "Brethren, if anyone among you wanders from the truth, and someone turns him back, let him know that he who turns a sinner from the error of his way will save a soul from death and cover a multitude of sins." Also, read how Nathan led David back to the Lord after David's great fall that lasted at least 9 months. Do not be surprised though if a once strong child of God refuses to return to God after a terrible fall, and such seems to be the case with Solomon. The Lord warned Solomon to return, yet up to his death, Solomon's heart was hardened toward the Lord. Also, the Bible teaches that we are actually responsible for the souls of those who go astray and if we don't warn them, their blood will be on our hands! (Ezekiel 33:8-9) That is a solemn warning that we should all heed.
VI. THE CONSTANT WARNING SIGN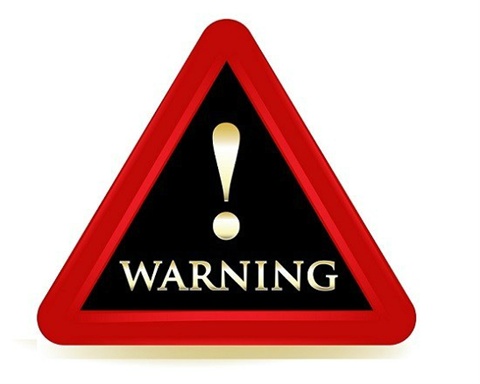 We must remember that God's mercy will not last forever and after this life will come the Judgment (Heb. 9:27). This life is given to us as an opportunity to choose the path that leads to everlasting life by placing our faith in Jesus Christ and His gracious works on the cross to save us. Our faith will be evidenced by a new born again heart that sincerely turns from our old sinful selfish ways to have a new heart and mind that lives to follow Christ and serve and obey Him. Even those who began on the narrow road of salvation, however, can turn away from this walk of faith by returning to old sinful, selfish lifestyles. The Bible warns that only those who endure to the end (who walk faithfully with Christ to the end of their lives) will be saved (Matt. 24:13).
Above all don't believe the devil's lies, as he tries to twist a few isolated scriptures and trick people in just the same way he tricked Eve. One of the devil's greatest tricks today is to try to make people believe that if they once had a great moment of saving faith, and walked steadfastly with God for quite some time, that they can never possibly get sidetracked and wind up back in sin again and separated from God. The Bible doesn't teach this,but instead the Bible teaches that God does not hear those whose sins are separating them from Him and that He only hears us when we sincerely and humbly repent (John 9:31, Psalm 66:18, Job 35:13, Deut. 1:45, Psalm 145:19, Prov. 15:29).
Remember, the test of a true believer is not whether someone once had a true moment of saving faith in the past, but whether or not he is a person who is continuing to walk in the Spirit by living and growing and doing God's will in the present, and on to the end! As we read the Bible it becomes exceedingly clear that salvation is not just merely a single moment, but it must endure to the end of our life. We must work out our salvation to the very end, by allowing the Lord to lovingly be in control of our lives and guide our steps.
Despite all of these clear Bible teachings and warnings, don't be tricked by people who will still want to cling to the ever so harmful teachings of unconditional eternal security or "Once Saved Always Saved". They will try and find every excuse possible to twist scripture to their liking. They will even come up with bizarre accusations such as people who believe in conditional eternal security don't believe in God's grace, or in Jesus' saving blood, or in His infinite work on the cross and free gift.
Yet, the Bible never teaches that grace is some 'free ticket' to heaven. What the Bible teaches is that God will not be mocked and that what one sows is what one reaps and that those who sow to the flesh will reap corruption, and that only those who sow to the Spirit reap everlasting life (Galatians 6:7-10). Also, the Bible teaches that if a person one day gets careless and strays back into sin he insults the Spirit of Grace, and treats Jesus' blood like a common thing to be trampled upon after he was once sanctified by that blood and knew the truth. Such a person as this no longer will have a sacrifice for sins but will have to face God's fiery judgment unless he sincerely repents. (Hebrews 10:26+) I think God is very clearly teaching us that we had better not take His wonderful grace, free gift, and His Son's precious saving blood for granted, for if we begin to do so the consequences could be devastating. We should, in reality, be praising God and thanking Him without end for these unbelievably indescribable gifts.
People who believe in conditional eternal security will also be so wrongly accused of for believing in a 'works salvation'/legalism. The accuser's favorite verse that they quote constantly and know by heart is Ephesians 2:8-9 which states "For we are saved by grace, through faith, not by works lest any man should boast." If they do accuse us of this though, then they would also be accusing Jesus, Paul, James etc. of also teaching a 'works salvation'/legalism since all of them taught that we must do the will of God/works of God as evidence that we have true saving faith (James 2:14-26, Hebrews 11, Luke 9:23).
Jesus, Paul, James etc were all the true and genuine grace teachers, yet they all taught that the sign of a true living saving faith was made manifest by the works of God done in our lives. Many love to quote Ephesians 2:8-9 and yet won't quote Ephesians 2:10 which says "For we are His workmanship created in Christ Jesus for good works, which God prepared beforehand that we should walk in them." 'Works salvation'/legalism is definitely not when a person does God's will/God's works. In fact, if we don't do God's will/God's works in our lives then we are not even saved! According to the book of James (James 2:14-26), we wouldn't even have a true saving faith if God's works are not made manifest in our lives. Remember --not the hearers are saved/justified but those who do as God commands. (Romans 2:13, James 1:22, Mt. 7:21-23)
A 'works salvation'/legalism is actually when a person believes that doing the works of man alone (ceremonial law, baptism, confirmation classes, circumcision, traditions, regular church attendance, good deeds alone etc) will gain him entrance into the Kingdom of God. It is fine to do some types of these works if they're done from the right motives; example: it is OK to be water baptized as an outward sign of a true inward change, BUT these works alone (baptism, circumcision, etc.) have no saving power! The Bible tells us that the TRUE outward sign that we've been saved is not the works of mankind like circumcision of the flesh, but circumcision of the HEART! (Rom. 2:29) Circumcision of the heart is a brand new wonderful heart that now is completely changed and wants to put behind old selfish/sinful ways and now lives to do God's way/work and God's will forever! We are commanded to do Christ's works which are done by following Him as He leads us into a holy life, but we are set free now from the ceremonial laws/works (Sabbaths, circumcision, food obligations etc.)
May you continue to stay vigilant, alert, and abide completely in God on your journey, and you will know true peace and security.
Strong Recommendation: For an excellent article that helps people to looks carefully at several scripture verses that "seem" to teach that OSAS/eternal security is certain, but are verses that are probably being misunderstood by many, please see the following http://www.christian-faith.com/can-we-dare-to-believe-the-doctrine-of-eternal-security/ Here are two other good articles on this subject: https://z3news.com/w/bible-studies/exposing-the-false-doctrine-of-once-saved-always-saved/ and http://www.aghville.org/once-saved-always-saved/
Article was written by F. A. Butler
This is an EXCELLENT video on this topic!
Here is a clear concise and very helpful video about the topic of OSAS from "Ask Dr. Brown"
Some very compassionate, and scripturally powerful videos on this subject of the dangers of the OSAS doctrine